I've always felt that supporting a charitable cause is an important decision. Let's face it, we have a lot of choices. There's simply no shortage of places that need our support.
Two things are incredibly important to us at Defined Life… veterans and empowering individuals. That's why we're proud to announce that this year, proceeds from our Special Edition American Flag Define My Day Planner and Journal will be going to the Veterans Leadership Program.
Helping to Empower Veterans
The Veterans Leadership Program is an organization that helps veterans of the US military reach their fullest potential. That's a mission close to our hearts as well. At Defined Life, our mission is to help every one of our customers live up to their full potential without regret.
This fall of 2020, we're proud to introduce our newest Define My Day cover and our instant favorite, the waving American Flag.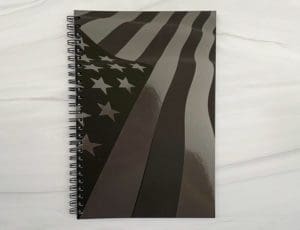 Why black?
First, it looks really good. The black stripes with UV coated stars and alternating stripes is awesome to see in person.
Second, the black US flag is used on military operator uniforms to reduce visibility in tactical situations. Similarly, we battle our external and internal villains as we grow each day using Define My Day. It's a reminder to keep fighting onward no matter the struggle.
Finally, we also use the black flag as a remembrance of the fallen. We thought it appropriate to release this new edition of Define My Day on Veterans Day as a tribute to all of those who have served.
I hope you find it in your heart to help us support the Veterans Leadership Program this fall. $10 from each of the Special Edition American Flag Define My Day Planners will go to the VLP.
Will you help us reach our goal of $10,000?